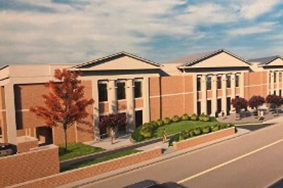 Birmingham, AL – August 23, 2022 – Black Creek Integrated Systems Corp. has been awarded a contract by the Darlington County Government (Darlington, SC), to furnish the security control system for the new Darlington Co., SC, Courthouse currently under construction. FBI Construction (Florence, SC) is the General Contractor for the project; RussCo Networks, LLC, is the subcontractor to FBI Construction responsible for installation of the security control system. Black Creek will furnish "parts and smarts" for the security control system. Construction on the new 2 story, 44,000sf facility is expected to complete in 2023 at a total estimated cost of $15.4 million.
Black Creek will furnish programmable logic controllers and control relays, touchscreen control workstations, security servers, Harding intercoms and headend, necessary network components, and other miscellaneous materials as required to create the integrated security control system; the control system will be integrated with the ExacqVision CCTV system to be provided by RussCo or another contractor. Black Creek will also provide programming, engineering, project management, shop drawings and as-built documentation, system start-up and final testing/check-out, and end user instruction for the security control system.
The new Black Creek system will enhance the safety of staff and visitors with its advanced functionality that allows an officer to easily select different camera viewpoints, control facility doors and intercoms, and more. The system upgrade will make security control easier and save the facility money by decreasing maintenance costs and increasing staff efficiency.
---
Black Creek Integrated Systems is a turn-key source for modern, touchscreen-based, correctional facility security control systems and security management software solutions that reduce the cost of corrections. Black Creek focuses only on the corrections market – installing integrated security and records management solutions in jails, prisons, courthouses and government facilities across the nation. Learn more about Black Creek.
---