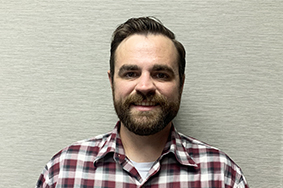 Birmingham, AL – September 14, 2022 – James brings 10 years of experience in the fields of customer service and logistics coordination to his new role with Black Creek. James graduated with a bachelors' degree from the University of Miami in 2011, and began his career as a Customer Service Associate.
During his career in customer service and coordination, James advanced to servicing the greater Tuscaloosa, Alabama area, coordinating food deliveries in his role as the Catering Sales Manager for Newk's Eatery Tuscaloosa. Afterwards he moved on to a role in freight delivery, working as a Logistics Coordinator and Freight Broker at TA Services in Leeds, AL. In his various roles with both companies, James provided customers with timely and professional communication, working across departments and with partner companies to bring projects to completion and ensure customers received the best possible service to meet their needs.
In his new position with Black Creek, James will be the Customer Support Coordinator. James's track record of excellent customer service and coordination experience will be a valuable addition to the Black Creek Service Team.
---
Black Creek Integrated Systems is a turn-key source for modern, touchscreen-based, correctional facility security control systems and security management software solutions that reduce the cost of corrections. Black Creek focuses only on the corrections market – installing integrated security and records management solutions in jails, prisons, courthouses and government facilities across the nation. Learn more about Black Creek.
---