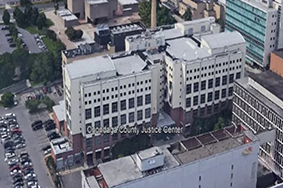 July 25, 2023 – Black Creek Integrated Systems Corp. has been awarded a contract by the County of Onondaga, NY, to provide a fully integrated jail security control and inmate record management system at the 665-bed Onondaga County Justice Center.
Black Creek's Super Display® physical security control system will improve situational awareness with enhanced video coverage and call-ups while reducing operator fatigue. Black Creek's browser based, SallyPort©NY JMS software will manage complex inmate data from Booking to Release. Black Creek's Watch Tour Manager® will help ensure facility wellness checks are conducted in compliance with New York State Minimum Standards and Regulations for the Management of County Jails and Penitentiaries. Black Creek's TSI PRISM™ inmate well-being monitoring system will automatically identify and continuously monitor at-risk detainees' heart rates and activity levels in real time with the goal of saving lives and reducing the County's exposure related to inmate in-custody deaths.
Working in concert as a single, tightly integrated solution, Black Creek's products will improve operational efficiency, increase facility safety, and mitigate exposure to costly lawsuits.
---
Black Creek Integrated Systems Corp. prides itself on knowing corrections and public safety inside and out – that's all we do. Black Creek focuses exclusively on the needs of jails, prisons, courthouses, and other public safety facilities and agencies nationwide. Black Creek offers fully integrated solutions that have revolutionized operations inside correctional and public safety facilities. Through product innovation and seamless integration, Black Creek provides its customers with the most advanced security and software products. Black Creek Integrated Systems is a turn-key source for modern, touchscreen-based correctional facility security control systems and security management software solutions that reduce the cost of corrections. Learn more about Black Creek.
---