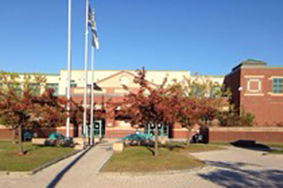 Birmingham, AL – February 22, 2022 – Oswego County, NY, has awarded Black Creek the project to upgrade the existing Security Control System at the Oswego County Correctional Facility located in Oswego, NY. Black Creek has been working with the 160-bed facility since 2008, when the Oswego County Sheriff's Office implemented Black Creek's SallyPort©NY Inmate/Jail Management System; the Black Creek security control system was installed a year later.
The scope of the work will involve migrating the Programmable Logic Controllers to a new platform, upgrading all the touchscreen workstations to a supported format, replacing the existing Video Recording and Management software with a Genetec system, and replacing the intercom exchange with a new Harding system. Existing field devices will be reused. The touchscreen control system provides control and monitoring of doors, intercoms, cameras, and other systems within the facililty. A new system will be implemented for documentation of guard rounds and inmate welfare checks utilizing commercial-off-the-shelf handheld tablet devices and Black Creek's Watch Tour Manager® software. The Watch Tour system and the physical security touchscreen control system will be fully integrated with the SallyPort©NY jail/inmate management system already installed.
The upgraded Black Creek system will improve the safety of staff and visitors with its enhanced functionality that the current control system does not provide. Each Super Display® Touchscreen station features LCD monitors that display all the facility's security controls and a CCTV camera call-up and video display. An officer can easily select different camera viewpoints, control facility utilities, and more. The system upgrade will make security control easier and save the facility money by decreasing maintenance costs and increasing staff efficiency.
---
Black Creek Integrated Systems is a turn-key source for modern, touchscreen-based, correctional facility security control systems and security management software solutions that reduce the cost of corrections. Black Creek focuses only on the corrections market – installing integrated security and records management solutions in jails, prisons, courthouses and government facilities across the nation. Learn more about Black Creek.
---