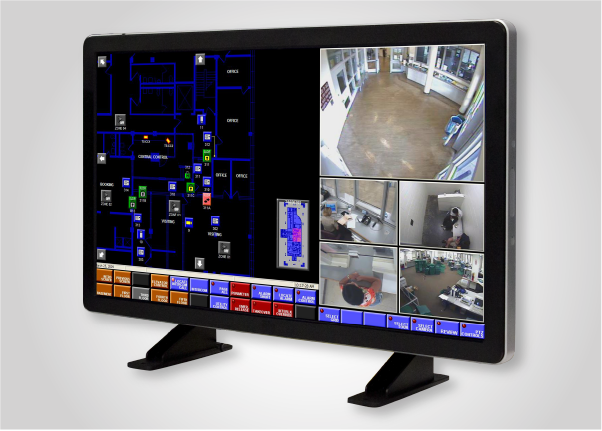 Super Display® Security System
Black Creek's touchscreen-based Super Display® Security System is the flagship of Black Creek's security technologies. The system provides agencies with a modern solution that incorporates all aspects of correctional facility physical security into a single, fully integrated package.
The Super Display® System is ideal for either new construction or retrofits and is the most cost-effective, long-term solution available.
The Super Display® System leverages brilliant, large-format LCD touchscreen monitors, speedy Intel® processors and Black Creek's easy-to-use user interface software to produce fast and intuitive security management for corrections. The Black Creek Super Display® Touchscreen Security System is an open architecture construct-utilizing only high-quality, non-proprietary system components. This assures a high level of system availability and makes maintenance a breeze by using only in-house personnel.
---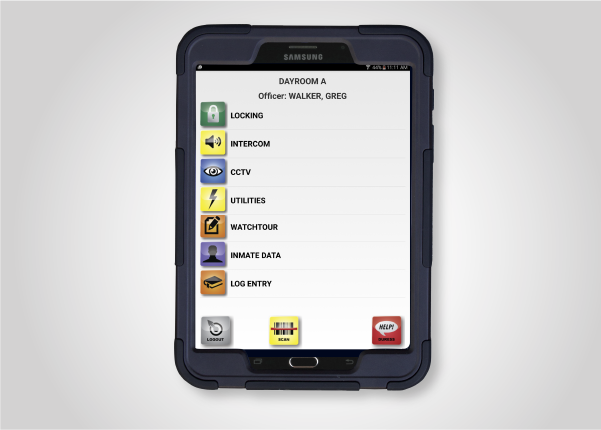 Personal Detention Assistants©
With the increasing need for transparency in corrections, Black Creek's Personal Detention Assistant© (PDA) mobile security control system is proving to be a game-changer for how correctional facilities will operate in the future.
The deployment of the Black Creek PDA© has been invaluable to command staff while providing a high level of versatility for line officers in the performance of their duties. This is due to the extensive operational record-keeping capabilities of the PDA© device and because the mobility of the device is ideal for controlling the direct supervision dayroom environment of a jail.
A Black Creek PDA© can provide physical security management, such as locking and real-time CCTV display. The device is also designed to facilitate shift log entry—providing the ability for officers to conduct wellness checks, photographic image capture and much more.
---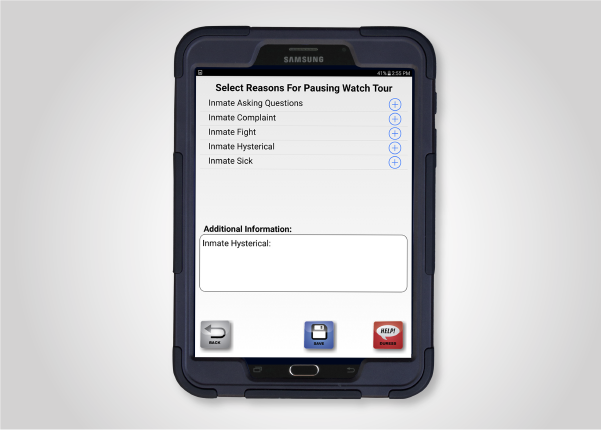 Watch Tour® Manager Application
Black Creek's Watch Tour® Manager Application, in conjunction with the Black Creek Personal Detention Assistant© (PDA), provides all the tools a correctional facility needs to implement a watch tour data gathering and reporting program that will meet the requirements of the most stringent oversight agencies. Using the Watch Tour® Manager Application, tours are configured on a management workstation using a variety of options. Configured tours are automatically uploaded to PDAs© over a wireless network. When a PDA© is configured for a tour, the assigned officer is automatically notified when to begin that tour.
A Black Creek Watch Tour System® will improve inmate oversight, clearly document staff compliance with watch tour policies and reduce the potential for claims related to poor execution or reporting of the watch tour process. Detention centers have the option of installing NFC tags that can be scanned by the PDA©. A Black Creek Watch Tour System® boasts real-time tour status. Tour data, images and officer comments are automatically downloaded over the wireless network as the tour is completed.
---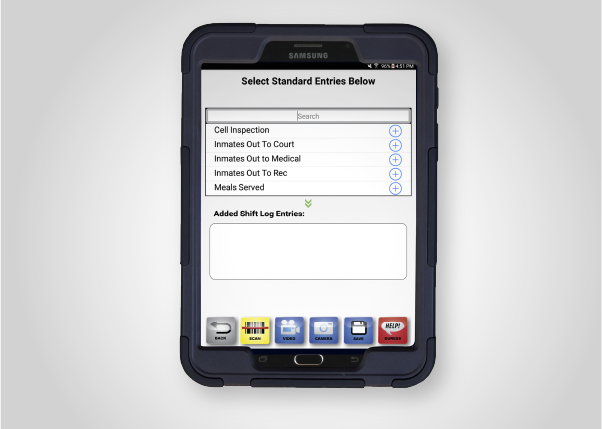 Shift Log
Black Creek's Shift Log app allows you to wirelessly record shift activity instantly in a searchable and historical database. Using an Android device, you can enter unlimited log entries including housing activity, inmate incidents, cell checks, inmate grievances, area and equipment inspections, damaged property, injuries, narratives and much more.
Use the tablet's camera to attach photos and videos directly to log entries. Create custom tags that match your facility's operations, and use the tablet's scanner to quickly and efficiently make log entries. The system supports mobile and desktop shift log entries. The Shift Log app can easily be integrated with Black Creek's SallyPort© Jail Management System, Watch Tour Manager®, and the Super Display® Touchscreen System.
Common uses for Shift Log include documenting activity and incidents with photos and videos, dispensing medications, tracking inmate movement, tracking officers, and searching and reporting information.
---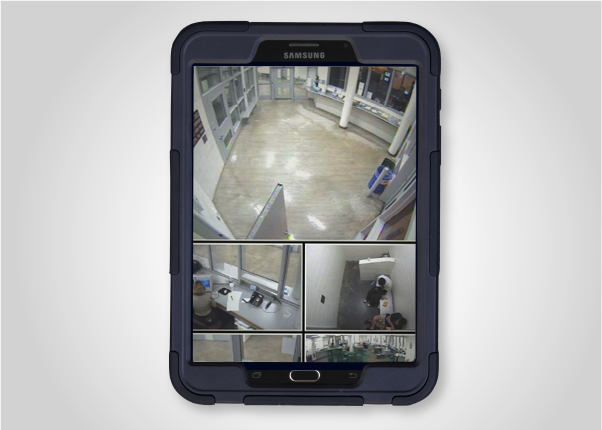 CCTV and NVR Recording Systems
Black Creek's Correctional Closed Circuit Television Systems extend the "eyes" of the control room officers by utilizing state-of-the-art, solid state IP cameras for signal transmission. An array of security cameras are displayed in user-configurable display formats on Black Creek's brilliant LCD high-res touchscreen monitors and can also be accessed over the internet by authorized users.
All CCTV feed is recorded 24 hours a day, 7 days a week on Black Creek's Network Video Recorders (NVRs) for a span of time designated by the facility. Authorized personnel can burn selected footage to DVDs in industry-standard format or can opt to use tamper-revealing security for evidentiary purposes.
Black Creek's CCTV systems are integrated with other subsystems to provide a more efficient and seamless operation with minimal staffing requirements. Your Black Creek CCTV can be networked to your intercom, personal duress, access control, locking and perimeter security detection system to provide event-based automated video footage.
---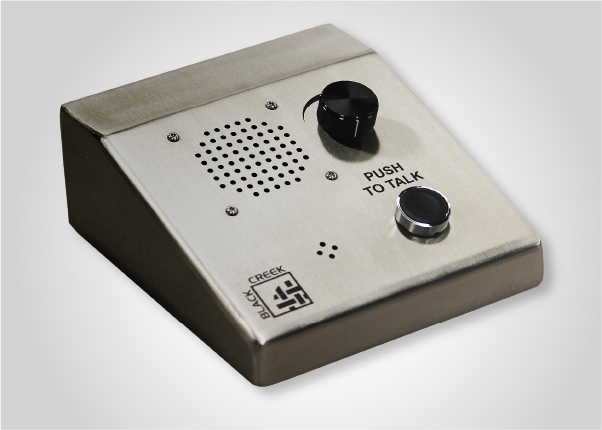 Paging and Intercom Systems
Black Creek's Intercom Systems provide amplified voice communication and paging capabilities between security control stations and other entry points throughout the facility. This includes intercom capabilities to inmate housing, circulation corridors and vehicular/foot traffic. Security staff can use the system for covert monitoring, two-way conversation, or public address broadcasts.
A Black Creek Intercom System utilizes touchscreen-controlled voice-over-IP (VOIP) technology—providing automatic visual display of CCTV camera views associated with intercom stations when communications are taking place.
Characterized by detention-grade stainless steel master and slave stations, conservatively-rated solid-state amplifiers and bullet-proof switching assemblies, the Black Creek Intercom System has a proven record of providing decades of trouble-free service in the harsh corrections environment.
---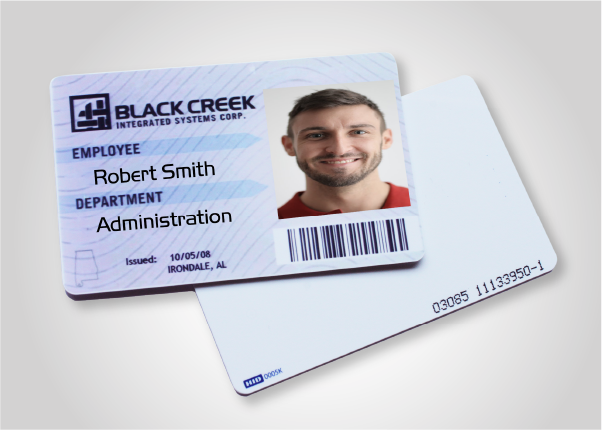 Access Control Systems
Black Creek's Access Control Systems for corrections provide the ability to control access in or out of the facility and its internal parameters without staff intervention. The system provides a record of all access transactions indicating where and when access was granted to whom.
Black Creek's system uses proximity-type cards and contactless readers because they do not exhibit the wear and maintenance problems associated with magnetic stripe readers. Card readers can be combined with additional security measures such as biometric devices to enhance security at more sensitive areas, such as the jail armory.
Integrate your access control system with other facility security control subsystems to provide a higher level of security throughout your prison or jail. Black Creek can connect access systems to locking control, elevator control, closed circuit televisions and many other systems within your facility.
---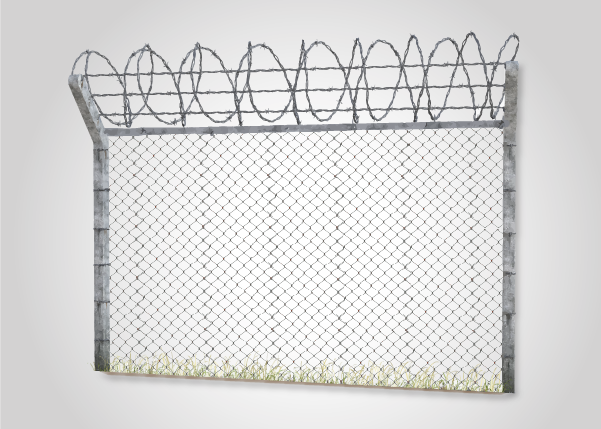 Perimeter Intrusion & Detection
Black Creek provides cost-effective and reliable Perimeter Intrusion Detection Systems (PIDS) that employ multiple technologies from multiple vendors. Any combination of taut wire, leaky coax, fence shaker, microwave, laser or other technologies can be incorporated into the overall system design—comprising a system that can be tailored to a facility's specific needs.
All Black Creek PIDS are tightly integrated using Black Creek's Super Display® Touchscreen Control System—which provides the control room officer with an intuitive user interface for all PIDS alarm annunciation and operation. This high-level of integration also facilitates interaction with other security subsystems, such as lighting control and CCTV feed—automating perimeter impact lighting and call-up CCTV cameras associated with a perimeter zone alarm.
A Black Creek Perimeter Intrusion Detection System is an excellent investment when a high-level, multi-layered security approach is required.
---