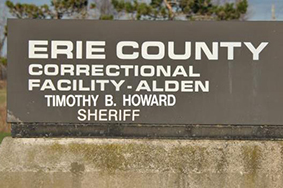 Birmingham, AL – April 2, 2019 – The Erie County Sheriff's Office has selected Black Creek to provide and install its Watch Tour® Manager guard rounds and inmate welfare check software in the 884-bed Erie County Correctional Facility at Alden, NY. The Erie County Sheriff's Office has been a Black Creek customer since 2010, when they implemented the Black Creek SallyPort© NY Jail/Inmate Management System at the Erie County Holding Center in Buffalo, NY. Erie County has also implemented Black Creek's Super Display® Touchscreen Security System and Watch Tour® Manager software at the Holding Center in Buffalo.
Watch Tour® Manager is a full-featured application that allows agency management to ensure facility tours are conducted on schedule and in compliance with policy and regulations. Using Android or iOS-based mobile devices, officers can conduct tours, capture images and videos, enter notes, and receive alerts all from the palm of their hands. Supervisors receive real-time notification of missed or late tours, as well as advanced tracking and reporting of tours by officer, unit, alert type, and date range.
---
Black Creek Integrated Systems is a turn-key source for modern, touchscreen-based, correctional facility security control systems and security management software solutions that reduce the cost of corrections. Black Creek focuses only on the corrections market – installing integrated security and records management solutions in jails, prisons, courthouses and government facilities across the nation. Learn more about Black Creek.
---