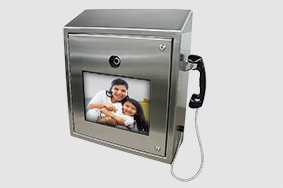 Birmingham, AL – October 8, 2019 – Black Creek Integrated Systems Corp. has been awarded a contract to supply the video visitation system at the new Qikiqtani Correctional Healing Centre being built in Iqluit, Nunavut, a territory of Canada. Black Creek will furnish inmate and public video visitation stations (including one hands-free/handicapped station), three portable inmate stations on mobile carts (for infirmary use and in other areas where an inmate may be incapacitated), a scheduling kiosk, an administrative/scheduling/enrollment workstation, a monitoring workstation, an application server, a recording server, a telephone messaging server, and associated network equipment. Installation will be handled by Paladin Technologies of Ottawa, Ontario, Canada. Black Creek's IP Visitor© software will be provided to manage and record visits as well as perform scheduling and administration.
A Black Creek IP Visitor© Video Visitation system enables family members, friends, and professionals to visit the incarcerated both on-premise and remotely from their homes or offices. The remote visitation option is generally more cost-effective than in-person trips for most visitors to the facility. The system can significantly increase security while generating revenue for a facility.
---
Black Creek Integrated Systems is a turn-key source for modern, touchscreen-based, correctional facility security control systems and security management software solutions that reduce the cost of corrections. Black Creek focuses only on the corrections market – installing integrated security and records management solutions in jails, prisons, courthouses and government facilities across the nation. Learn more about Black Creek.
---