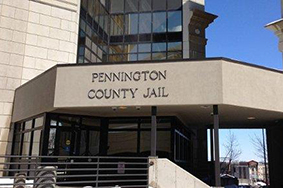 Birmingham, AL – June 5, 2019 – Black Creek Integrated Systems has been awarded a contract to expand the existing Black Creek Super Display® electronic security system for the Pennington County Jail into newly renovated areas. The jail is a 593-bed facility built in 1989 and is located in Rapid City, SD. The expansion project is slated to be completed in multiple phases.
The jail renovation project is described as the construction of a Secured Covered Parking Area and a Build-out of the Ground Floor Jail Annex with an Addition to the First Floor Main Jail. Black Creek's portion of the project involves expanding the existing Black Creek security control system at the Jail into the renovated kitchen/laundry area. Black Creek will furnish new intercom stations, paging speakers, and IP cameras, and will provide the necessary programming to incorporate new and relocated security devices and detention doors into the touchscreen control program.
The existing Black Creek security control system was substantially completed in October 2017, and was designed to make security control easier and save the facility money by decreasing maintenance costs and increasing staff efficiency. Safety of visitors and staff was improved by features of the Black Creek Super Display® system that the previous control system did not have. Each Super Display® Touchscreen station features up to three LCD monitors that display all the facility's security controls and a CCTV camera call-up and video display. An officer can select different camera viewpoints, control facility utilities, and more.
---
Black Creek Integrated Systems is a turn-key source for modern, touchscreen-based, correctional facility security control systems and security management software solutions that reduce the cost of corrections. Black Creek focuses only on the corrections market – installing integrated security and records management solutions in jails, prisons, courthouses and government facilities across the nation. Learn more about Black Creek.
---