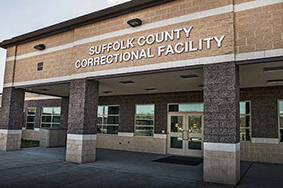 Birmingham, AL – July 29, 2019 – The Suffolk Co. Sheriff's Office has awarded Black Creek the contract to upgrade the physical security control systems at their Riverhead and Yaphank correctional institutions, as well as at the Riverhead Courts Facility. The Suffolk Co. Sheriff's Office has been a Black Creek customer since 2009 and currently uses Black Creek's Super Display® Touchscreen Security System and SallyPort© Jail Management Software (JMS), as well as the wellness check and guard tour system, Watch Tour® Manager.
The Suffolk Co. Max/Med Security Correctional Facility, located in Riverhead, NY, has a rated operating capacity of 1,013 beds, while the Suffolk Co. Minimum Security Correctional Facility, located in Yaphank, NY, has a rated operating capacity of 589 beds. The two institutions have a combined daily average of over 1,200 inmates and are managed by the Suffolk Co. Sheriff's Office.
Evolving technology and the useful and usable lifecycle of computer and network components require periodic update of even the most robust systems, as is the case here; components that have been installed and working reliably since 2009 must now be upgraded to current technology platforms. During the phased upgrade, the network infrastructure at all three facilities will be updated; new Gigabit POE network switches, new fiber media convertors, and new Wireless Access Points will be installed to replace equipment that has reached End-of-Life. Programmable Logic Controllers, which manage the hundreds or thousands of inputs and outputs required to control a facility's door locks, cameras, intercoms, etc., will be replaced with new state-of-the-art PLCs. Touchscreen computers and servers will be updated to Windows® 10 models, and new LCD monitors and new intercom masters will be provided. New Personal Detention Assistant© tablets will be implemented to allow staff to circulate within the facilities while still maintaining full security functionality. The existing Digital Video Management system will be upgraded to an enterprise-class Genetec Digital Video Recording and Management System to manage viewing and recording of video from almost 800 cameras. Finally, the card access system will be updated to a new Maxxess card access system. By phasing the upgrades at the three facilities, Black Creek will maximize the security system uptime at each, while minimizing impact to each facility's daily operations.
---
Black Creek Integrated Systems is a turn-key source for modern, touchscreen-based, correctional facility security control systems and security management software solutions that reduce the cost of corrections. Black Creek focuses only on the corrections market – installing integrated security and records management solutions in jails, prisons, courthouses and government facilities across the nation. Learn more about Black Creek.
---