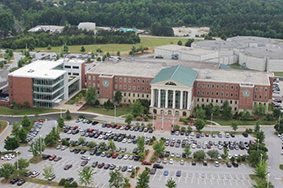 Birmingham, AL – January 2, 2020 – Clayton County, GA has awarded Black Creek a contract to upgrade the existing security control system at the Clayton County Justice Center and 1,536-bed Jail, located in Jonesboro, GA. The updated control system will be a state-of-the-art Black Creek Super Display® Touchscreen electronic security system. Clayton Co. has utilized Black Creek for the jail's security control systems since the original system was installed in 2000.
The security control system upgrade will involve replacing the existing outdated system in the Jail and Justice Center that includes older model touchscreen control stations and one graphic panel with a new, state-of-the-art, Super Display® touchscreen control system. Super Display® touchscreen control stations will be installed at fifteen (15) control locations throughout the facility. As part of the implementation, new server and utility computers will be installed, new intercom/paging headend and intercom masters will be installed, and network infrastructure (programmable logic controllers, Gigabit Ethernet switches, etc.) will be updated as needed to support the new system. The existing CCTV video management and recording system will be upgraded to a new Genetec Video Recording & Management system to allow the use of several nonproprietary cameras to be used and to provide camera call-ups on touchscreen control stations. The existing intercom stations and paging speakers, existing duress devices, and existing cameras will be re-used and integrated into the new control system. During this phased upgrade, the Juvenile Justice Center will also be retrofitted with a Black Creek Super Display® touchscreen control system. This upgrade will eliminate equipment that has been designated as End-of-Life by the equipment manufacturer and will utilize the Windows® 10 operating system on new computers to provide a stable and supportable system for years to come.
Each Super Display® Touchscreen station features up to two LCD monitors that display all the facility's security controls and CCTV camera call-up and video display. An officer can easily select different camera viewpoints, lock/unlock doors/gates, answer intercoms, control facility utilities, and more. The system provides agencies with a modern solution that incorporates all aspects of correctional facility physical security into a single, fully integrated package.
---
Black Creek Integrated Systems is a turn-key source for modern, touchscreen-based, correctional facility security control systems and security management software solutions that reduce the cost of corrections. Black Creek focuses only on the corrections market – installing integrated security and records management solutions in jails, prisons, courthouses and government facilities across the nation. Learn more about Black Creek.
---