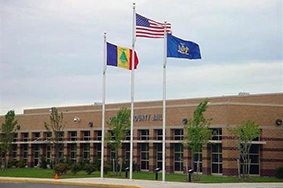 Birmingham, AL – November 23, 2020 – Black Creek has been awarded a contract to upgrade the existing Card Access System for the Ontario County Jail, a 276-bed facility located in Canandaigua, NY. The jail currently uses a Sapphire Pro Access Control System, integrated with the Black Creek's Super Display® Touchscreen Security System. However, the County has standardized on Genetec Access Control throughout County buildings and so wanted to migrate the Jail to the same Access Control System. Black Creek will integrate the new Genetec Card Access System into the existing Touchscreen Control System. Black Creek has been working with Ontario County since 2007. In addition to the Touchscreen Control System, Ontario County also uses Black Creek's SallyPort© Jail Management System.
The scope of the work will involve removing the existing card access headend and card access administrative workstation, and installing new headend consisting of a security server, Altronix enclosures, and Mercury Intelligent Controllers and card reader interface modules. Ontario County is responsible for providing the Genetec software, licenses, and administrative workstation. Existing card readers will be reused.
---
Black Creek Integrated Systems is a turn-key source for modern, touchscreen-based, correctional facility security control systems and security management software solutions that reduce the cost of corrections. Black Creek focuses only on the corrections market – installing integrated security and records management solutions in jails, prisons, courthouses and government facilities across the nation. Learn more about Black Creek.
---