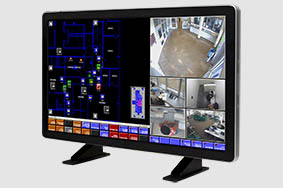 Birmingham, AL – June 16, 2020 – Wayne Co., NY has approved a project to make interior modifications to the existing Wayne Co. Jail elevator Sallyport© and Jail Lobby spaces. Project work includes the replacement of certain commercial-type interior doors and hardware with detention grade doors and hardware, including modifications or additions to masonry walls, detention and acoustical ceilings, detention barriers, and electrical, detention, and security equipment and systems. As part of this project, Black Creek will expand the existing physical security control system at the Jail, located in Lyons, NY, to incorporate the modifications. Black Creek has been working with the Wayne Co. Sheriff's Office since 2011 when Black Creek's Sallyport© Jail Management System was installed.
Under this project, Black Creek will furnish new detention-grade intercoms for installation by the Electrical Contractor, and will provide programming and commissioning services to incorporate new controlled and monitored doors, intercoms, and CCTV cameras into the existing Super Display® touchscreen control system. These additions to Wayne Co. Jail's security system will allow personnel in Central Control to better monitor and manage movement through the elevator Sallyport© and Jail Lobby.
---
Black Creek Integrated Systems is a turn-key source for modern, touchscreen-based, correctional facility security control systems and security management software solutions that reduce the cost of corrections. Black Creek focuses only on the corrections market – installing integrated security and records management solutions in jails, prisons, courthouses and government facilities across the nation. Learn more about Black Creek.
---