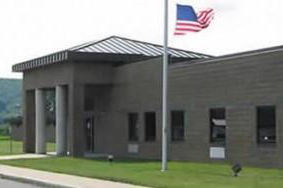 Birmingham, AL – March 1, 2021 – Black Creek has been awarded a contract by the Otsego County Sheriff's Office to upgrade the existing Black Creek Touchscreen Security System and CCTV System at the 100-bed Otsego County Jail located in Cooperstown, New York. The upgrade will update the facility from the Windows® 7 to the Windows® 10 operating system and will migrate the CCTV video recording and management system from Vicon to Bosch.
New Super Display® touchscreen control stations will be installed at designated locations, along with new servers, to perform all security control functions including door control, intercom communications, CCTV camera monitoring, utility control, inmate movement tracking, watchtour recording and electronic shift log entry. The upgraded security control system will maintain full integration with Black Creek's SallyPort© 4.0, the facility's jail management system. In addition, Black Creek will replace existing Vicon encoders, which have been designated End-of-Life by Vicon, with new Bosch encoders to digitize signals from existing analog cameras. A new Bosch Video Recording and Management system will be implemented for better video management. The CCTV system will remain fully integrated with the touchscreen control system.
---
Black Creek Integrated Systems is a turn-key source for modern, touchscreen-based, correctional facility security control systems and security management software solutions that reduce the cost of corrections. Black Creek focuses only on the corrections market – installing integrated security and records management solutions in jails, prisons, courthouses and government facilities across the nation. Learn more about Black Creek.
---