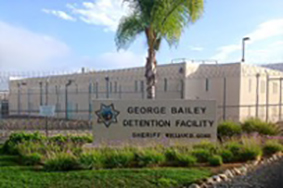 Birmingham, AL – June 9, 2021 – The Architectural firm Randall Lamb Associates, Inc., has awarded Black Creek Integrated Systems (Black Creek) a contract to design the security control system for the renovation of the existing George F. Bailey Detention Facility (GFBDF) operated by the San Diego County Sheriff's Office. Randall Lamb was chosen by the County of San Diego to provide architectural, engineering, and related professional services for multiple detention facility renovation and upgrade projects, including that at the GFBDF. Black Creek will work with Randall Lamb to provide an optimum design for renovation of the electronic security control system at the GFBDF. Design plans produced by Black Creek in conjunction with Randall Lamb can then be used in future requests for bids or proposals for the renovation project.
The 1380-bed GFBDF currently uses a mechanical knob-and-button control panel system along with an analog camera system and custom-built intercom system. Black Creek will design a new control system that will use programmable logic controllers and touchscreen control stations for control and/or annunciation of door locks, intercoms, and other field devices. The design will include a new IP-based CCTV system and a Voice-over-IP intercom system. The design produced by Black Creek will allow the San Diego County Sheriff's Office to take advantage of the latest technological advancements in correctional security control as well as enhance safety and accountability in its daily interactions between staff, inmates, and the public.
Black Creek has been working with San Diego County since 2012, with touchscreen systems installed in the San Diego County Central Jail, Facility 8 Detention Facility, East Mesa Reentry Facility, East Mesa Juvenile Detention Facility, and Las Colinas Detention and Reentry Facility. Black Creek is also in the process of replacing the security system at the Rock Mountain Detention Facility.
---
Black Creek Integrated Systems is a turn-key source for modern, touchscreen-based, correctional facility security control systems and security management software solutions that reduce the cost of corrections. Black Creek focuses only on the corrections market – installing integrated security and records management solutions in jails, prisons, courthouses and government facilities across the nation. Learn more about Black Creek.
---