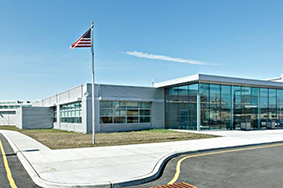 Birmingham, AL – January 14, 2021 – Black Creek has been awarded a contract to replace the existing locking control system, including programmable logic controllers (PLCs) and intercoms, at the Bergen County Juvenile Detention Facility located in Teterboro, New Jersey. Black Creek will work closely with closed circuit television (CCTV) and access control contractor Johnstone Communications (JCT), to provide a fully integrated, touchscreen-based security control system for Juvenile Detention Center.
The scope of the work involves installing new GE PLC components and relays in new equipment cabinets, new Super Display® Touchscreen control stations utilizing 32" LCD monitors, new servers and data logger, new VPN appliance, new GPS antenna and time synchronization appliance, and new intercom exchange and master stations. Black Creek will also provide a new, fully integrated watch tour/welfare check system. Black Creek will integrate into the control system the CCTV video recording and management system and card access system provided by JCT, as well as providing full integration of the existing duress system and utility controls.
---
Black Creek Integrated Systems is a turn-key source for modern, touchscreen-based, correctional facility security control systems and security management software solutions that reduce the cost of corrections. Black Creek focuses only on the corrections market – installing integrated security and records management solutions in jails, prisons, courthouses and government facilities across the nation. Learn more about Black Creek.
---